---
RECORDED TRAINING COURS

E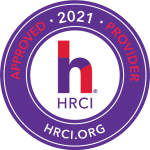 1.5 CEUs HRCI |  1.5 PDCs SHRM APPROVED
---
The Centers for Disease Control (CDC) announced on July 27, 2021, that it will adjust its advice to recommend that vaccinated people in substantial or high transmission areas of COVID-19 (defined below) wear masks in indoor public spaces. This guidance will substantially alter the CDC's May 13 guidance that largely exempted fully vaccinated individuals from the indoor mask requirement. There has been no change in the outdoor masking recommendations at this time. In changing its masking recommendations, the CDC asserts that current scientific information indicates that the delta variant can be spread despite vaccine status, warranting an adjustment to its prior guidance.
This update can impact the workplace as Employers are struggling to mitigate the current vaccination gaps in the workplace. The challenge is that there are still many employees who are non-vaccinated, and the Delta variant will impact vaccinated and non-vaccinated employees. I know as a compliance officer that there will be what I call a mixed population of employees. It is more critical now to educate employees and leadership on best practices to manage the COVID-19 everchanging guidelines.
   

Session Highlights:
What does the new CDC Guidance include and how will it impact the workplace?

Learn why Employers are frustrated with all the changes in guidance

Learn what the challenges are for Employers when adapting to changes in guidance

Learn how Employers can mitigate some of the changes that are arising

Learn how the Delta Variant impacts the vaccinated and non-vaccinated individuals

Learn that Employers in state-specific and multi-state locations need to stay aware of the state status on COVID-19 surges

Learn what the CDC guidance say about vaccinated employees spreading the virus to unvaccinated employees

Learn what the CDC updated resources can do for the workplace

Learn how the new CDC COVID-19 Tracker will help Employers identify the status of COVID-19 to make policies

Learn how the new CDC Guidance on masks impact current vaccination guidance

Learn if the CDC update will impact Employers who plan to bring back employees from remote locations
     

Who Should Attend:
 All Employers

 Business Owners

 Company Leadership

 HR Professionals

 Compliance Professionals

  Managers/Supervisors

  Anyone who wants to gain knowledge on the updates on COVID-19
Note: You will get access to the Recording link and E-Transcript; in your account and at your registered email address.
Margie Faulk, PHR, SHRM-CP is a senior-level human resources professional with over 14 years of HR management and compliance experience.
A former Compliance Officer for Federal Defense Contracting Industry, Margie has worked as an HR and Compliance advisor for major corporations and small businesses in the small, large, private, public, and non-profit sectors.